Damn, I'm really not having any luck with makeup lately. Yet again, I bring you another look with uneven crease colours! The lid colour also looks disgustingly crunchy, probably because it's a repackaged piece of shit. It only lasted about an hour on me anyway, because I cried it all off later on *whinges*. If you can figure out the title of this post, I will give you non-existent cookies.

Products:
Urban Decay Primer Potion
Heavenly Naturals Fairytale - used wet on lid
NYX Walnut Bronze in the crease
Urban Decay Twice Baked to deepen the crease
88 Matte/Original palette skintoned highlight
Urban Decay 24/7 liner in Bourbon on the lower lashline
BYS black liner to tightline
Avon Supershock mascara
Peachy blush and NYX megashine lipgloss in Smokey Look were also used.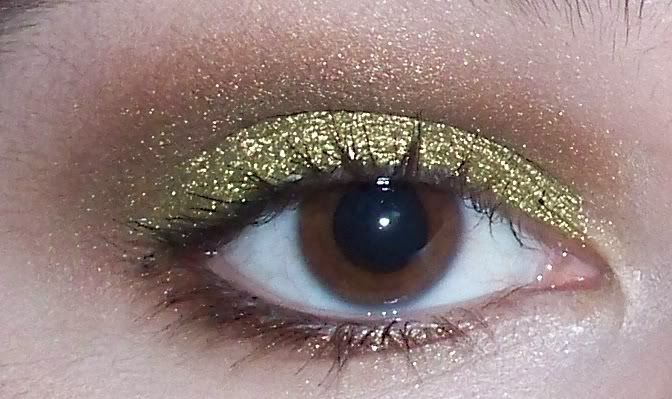 This is kind of a recreation of a look
xsparkage did
, but hers is much better. I wasn't really intending to recreate the look, I just had the same lid colour on hand and couldn't think of any other colours to pair it with.
I feel like I need to change things up, because I pretty much always use the same application technique - lid colour, crease colour, deeper crease colour, crease colour on lower lashline, highlight and maybe inner corner highlight. Anybody got any suggestions on how I can shake shit up? It all looks the saaaaaaaaaame.