After doing the
Monochromatic Lid/Colourful Crease
look for The Quest, I wanted to test out some more bright greens and ended up with this. I've always been a fan of dark greens, but chartreuses and lime greens have always terrified me - outside of wearing them on the nails, that is. So this was a big makeup leap for me. Hopefully soon I'll conquer my fear of hooker blue eyeshadow. ;]



Products:
Urban Decay Primer Potion
88 Shimmer Palette

Lime Green - lid
Deep shimmery brown - crease + lower lashline
Black - outer V

Silk Naturals Sonic - inner corner
Urban Decay 24/7 Liner in Bourbon - lower lashline
BYS black liner to tightline
Avon Supershock Mascara on top lashes
Mirenesse Secret Weapon 24Hour mascara on inner and bottom lashes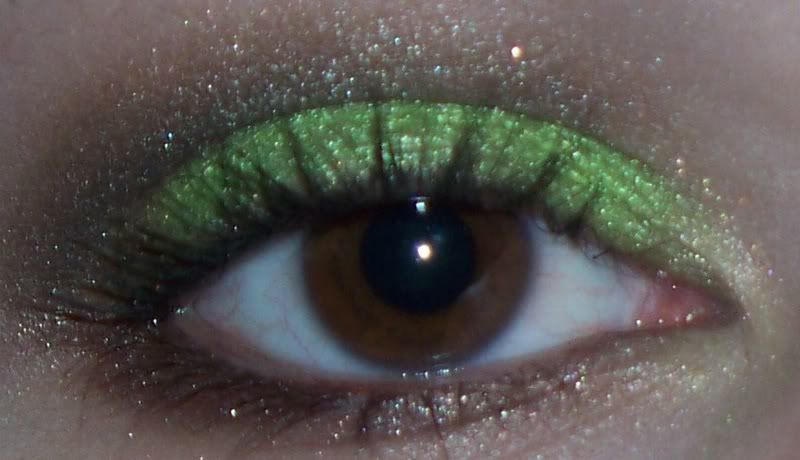 I actually curled my lashes after applying mascara and before taking photos, and you can totally tell. It actually looks like I have half decent lashes for once! SN Sonic isn't green like it looks in the photos, I just applied it on top of a bit of the lime green that got on the inner corners. It's a pretty shimmery white that's supposedly a clone of MAC Vanilla Pigment.
Oi
Laura/Technopathetic
, if you're reading this then this is the lime green look I said I'd post for you :)
I think I'll try a lime/chartreuse lid paired with darker greens sometime soon.