Everyone is aware that October is Breast Cancer Awareness Month, but fewer people know that October is also dedicated to Depression Awareness.
The Makeup Heroes
will be doing green looks this week for the cause, as green is the colour of the Depression Awareness Ribbon and depression is a cause close to many of our hearts.
Wendy
and
Kathy
have shared some statistics on their blogs, so I just wanted to share my story of depression. I am now 21 and have suffered from some form of depression since I was 11. I have a very strong family history of depression, with every living woman on my mother's side suffering from the disease. It's all I've ever really known, and I will likely be on some form of medication until the day I die.
I had an extremely difficult time getting a diagnosis for my disease. I sought help for self-harming when I was 15, but my doctor just recommended me to the incompetent and underqualified school counselor. She made me play with fucking pipecleaners and justify my colour choice and configuration. She was such a joke and so entirely unhelpful that I refused to go back, so I played along and pretended that I was happy and 'normal' so I didn't have to see her again. It wasn't until my first year of university that I took my chances on another doctor when I noticed that I was feeling more 'blah' than usual, perpetually exhausted and like everything was too hard.
I finally received a diagnosis at the age of 17. I started seeing a psychologist and was prescribed anti-depressants, which was an incredible relief. I was angry that it had taken 6 years for someone to take action, but glad that I was finally on the road to getting better. The psychologist was helpful beyond belief and it felt great to have someone listen, even if I just wanted to bitch about douchebag group members at uni. Medication was a bitch to get right though. I started on Effexor, which gave me nausea and made me feel flatter than flat. I then started on Aropax which was much more effective, and the medication I still take to this day. Treatment is very much a process of trial and error, but it does get better. It was a horrible journey, but I can safely say I am now the closest I've ever been to 'balanced' and 'happy'.
Products:
Too Faced Shadow Insurance
NYX Jumbo Pencil in Yellow - as a base on the lid
NYX Moss Eyeliner - as a base on the lower lashline
88 Original/Matte Palette

Chartreuse - lid
Kelly green - crease

Concrete Minerals Zealous - inner lower lashline
MAC Lucky Green - centre lower lashline
MAC Humid - outer lower lashline
Spell Cosmetics Citron - inner corner highlight
Sugarpill Bulletproof - to tightline
Silk White Gel Liner - lower waterline
Tarte Lights, Camera, Lashes! Mascara
Benefit Bad Gal Lash Mascara
Cheeks:
Chanel Soleil Tan de Chanel - bronzer
Sportsgirl Get Cheeky Cheek & Eye Shimmer in Peach - blush
Lips:
MAC Shy Girl Lipstick - just a tiiiiny bit
Mode Cosmetics Lip Shine in Pear-fecto (light shimmery green!) - lipgloss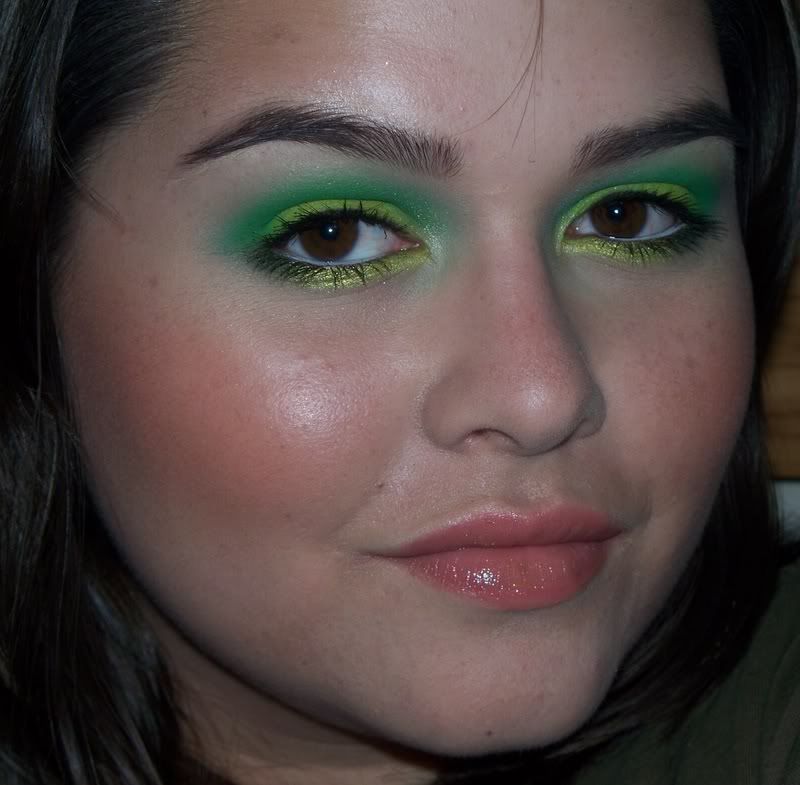 These days I'm finally able to smile and make duckfaces <3
I don't even need to tell you that there's a massive about of stigma around depression, especially having been witness to a vicious attack on a friend's mental health in recent weeks. Nobody deserves depression, nobody deserves to feel this way. Depression is a debilitating illness in itself, and this is just compounded when you have embarrassment, shame and perceived weakness lumped in there too. Very few of my real life friends know I have depression, and I don't discuss it with them because I feel they just don't understand. I would love to live in a world where I could be open and honest about my disease, where I don't have to worry about being judged because my serotonin levels have a mind of their own.
I know posting a picture of a pretty green makeup look isn't going to magically transform the world, but hopefully it'll make at least one person stop and think about mental health.
Check out the other Makeup Heroes' posts for Depression Awareness: