This week was unofficial pinky-red lip week here at SilhouetteScreams! I recently received some goodies from
DeLeon Cosmetics
to review, and all the lip products fell into the pinky-red category. I have that admit that while I've been enjoying experimenting with neutrals in a fun way for work, I've been
dying
to slap on a bold lip.
Now I will warn you, this post is a little awkward for two reasons.
1)
The lip products I was sent don't have names, just 'Review Colour'. I have some preliminary swatches coming up that'll show the products in greater detail, but I'll try to describe them as best as I can for now.
2)
The lip products photographed a
lot
more pink-toned than they look in real life. Most of the products had a strong pinky undertone, but were still definitively red. My camera decided to make everything look reddish pink because it's fabulous like that. *eyeroll*
While the lip colours aren't accurate in the least, I hope you can appreciate how pretty they look here :P
Bleurgh my skin looks horrible. I had to take my foundation off and start again because shit just wasn't working.

Monday:
Here I'm wearing a De Leon Lipstick Balm in Review Colour 2, and it's largely colour inaccurate. Granted I'm wearing it lightly here, but in real life it's a slightly muted red with subtle pink undertones. I think I can almost detect the slightest brown undertones too. The cheeks are Benefit Hoola to contour (which I should've blended more), MAC Equilibrium Blush, and MAC Pearl Cream Colour Base to highlight.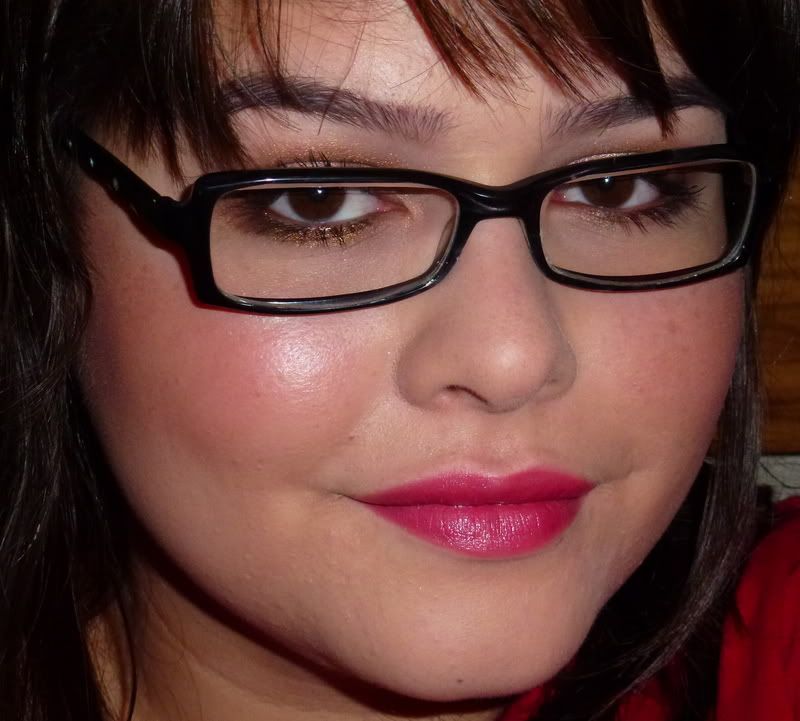 Tuesday:
I wore the Full Impact Lipgloss in Review Colour 2, which is colour inaccurate yet again. In real life this one is like a mauvey pinky red. On the cheeks I wore Benefit Hoola as a contour and MAC Equilibrium Blush again, and used the B Collection by Bloom Collecta Colour Eyeshadow in Pink Sands on my lids and to highlight my cheeks. It's a beautiful shimmery pinky beige, and it worked really nicely with MAC Equilibrium, which is a pinky tan.
Wednesday:
I'm not sure what kind of product this is, it appears to be a lipgloss that's a little tackier and thicker than the Full Impact Lipgloss I wore on Tuesday. When swatched or applied heavily, it's the colour of blood. When worn more sheerly, it's a classic red with a hint o' pink. Unfortunately it looks straight up berry with my weirdass camera. =/ I wore the same combo of Hoola, Equilibrium and Pink Sands on my cheeks.
Thursday:
Not sure of the name of this one, but it's a lip stain. It's solid in the sample pot and not terribly creamy, yet somehow it's easy to pick up colour. In real life it seems like the lovechild of MAC Rebel Lipstick and NARS Velvet Matte Lip Pencils in Cruella and Damned, but it's showing up a lot more pink here. In this photo it looks how MAC Rebel when I rub it out to a stain, but it's deeper and more red-toned in real life. On my cheeks I wore Benefit Hoola and MAC Equilibrium again, but this time I wore my
Prorance Sunny Glam Water Glow Skinfinish
in M13 to highlight.
Friday:
No pinky red lips here! I'd tried out all the lip products I was sent, and after 4 days of bold lips I felt like my eyes needed a little attention. Last Friday I wore a rusty red smokey eye, so this Friday I did the opposite and went with an emerald green smokey eye. Unfortunatey my camera appears to just hate me this week, so this one photographed more grass green than the deep emerald meets forest green it was in real life.
I used a random green from a Smashbox PETA palette in the crease (
this is it
), MAC Humid on the lid and lower lashline over NYX Golden Olive Slide on Pencil, and MAC Gorgeous Gold as an inner corner highlight. On the cheeks I used MAC Springshine Blush Ombre to contour, with MAC Equilibrium Blush and MAC Pearl Cream Colour Base to highlight. On the lips I wore MAC Viva Glam Gaga II lipstick
very
lightly, with Sportsgirl Give Some Lip Liquid Lip Colour in Bohemian on top.
---
Swatches of the DeLeon colours tomorrow! :)