Recently I received a few samples from
Victorian Disco Cosmetics
to review. Victorian Disco Cosmetics combine geeky and gothy products, while avoiding branding themselves as an entirely geeky or goth company. As the description in the Etsy store so aptly puts it,
"

why can't one company focus on all of these aspects... not just one? You can be a geek in a dress, or a girly goth who loves watching anime." I thought it was a really cool concept, as I'm occasionally turned off geeky makeup if I'm not privy to the inside joke or haven't watched the TV show/played the game. I'm interested to see how it works in terms of branding.

Anyway, I'm currently in the process of testing the shadows and providing feedback to the owner, Ashley, so you just get basic swatches and first impressions for now. I won't go into detail on the wear of each shadow until I've had enough experience with each one, but I will tell you that many of these were a little on the sheer side.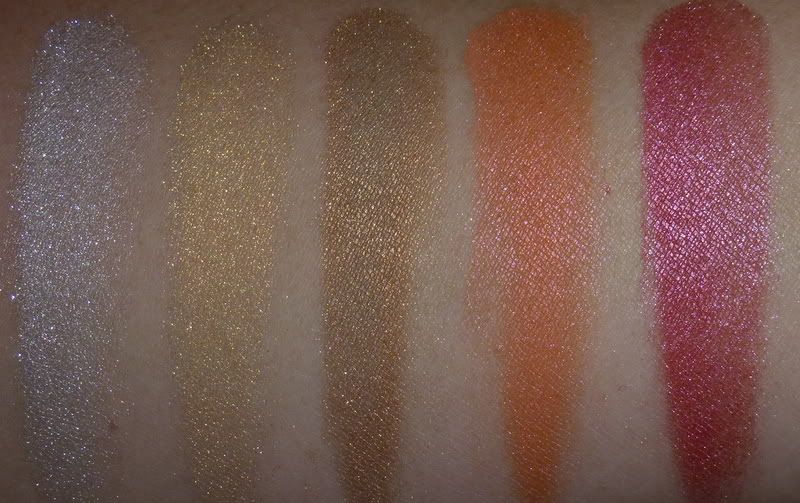 Left to Right: Powder Wig, Sailor Moon, Baroque, Sailor Venus and Sailor Mars.
Powder Wig
is described as a "
B

right Metallic White with Purple Flecks". I haven't noticed any purple flecks yet, but I've only used this sheerly as an inner corner highlight thus far.

Sailor Moon is a

"
True golden color with gold flecks and sheen." I've only had limited experience using this one on the inner lower lashline, but it really popped when I used Benefit Gilded Pencil as a base.

Baroque is described as a

"
Light Brown with Gold Flecks and Sheen". I'm interested to try this one, because it's kinda gold, kinda brown, and kinda olive too!

Sailor Venus is a

"
Bright golden orange". This isn't terribly bright or saturated, but it's no pastel orange either.

Sailor Mars is a

"
Rusty red with a pink sheen." I personally see more pink than rusty red here!
Left to Right: Millennium Falcon, Death Star, Sailor Saturn, The Fett and Revolutionary Ball.

Millennium Falcon is a

"
Deep Silver with Red, Purple and 3D Sparkles". Haven't noticed said sparkles yet, but I've only used it once. It only turned a little blue on me though, which is good for a silver on my weirdass skintone.

Death Star is described as a

"
Dark Black with Silver Sparkles and a Gray Sheen". I'd say this is more of a gunmetal shade than a black, and it didn't turn terribly blue on me either. :)

Sailor Saturn is a "
Bright purple with red undertones and red flecks." The red tone to this is more apparent in the baggie and in real life, as my crappy flash swatches are leaning on the cool side.

I can't find The Fett listed in the shop (either it's out of stock or my Google Fu is damn weak) but to me this is a greyed purple with a tinge of brown and turquoise shimmer.

Revolutionary Ball is described as

"
Dark Black with a Deep Blue Sheen". This one is a stunner! I also see some teal shimmer in there too.
Review coming soon!