This post is a little strange and hard to write. It's not even really a review, more just a tale about my experience with
Victorian Disco Cosmetics
. To cut a long story short, I had a really negative experience with the products I was sent for review. However, the owner Ashley has been really sweet and receptive to my feedback, and has already started overhauling some of the shades I had issues with. So while I'm about to detail the bad reaction I had to these shadows, I'm hoping the changes Ashley is implementing will ensure that nobody else has a similar experience to mine.
This post might seem a little redundant, but I felt it was important to write nonetheless. I owe you guys an update with my honest opinion on how I went with the shadows. Although Ashley might reformulate these shadows to be absolutely stellar, I'd feel a bit weird if I had so many issues with the products and just sat back and publicly said nothing. And hey, maybe somebody else had a similar experience and could provide Ashley with some more feedback to further improve her products! :)
Read on for the tale of my encounter with Victorian Disco Cosmetics....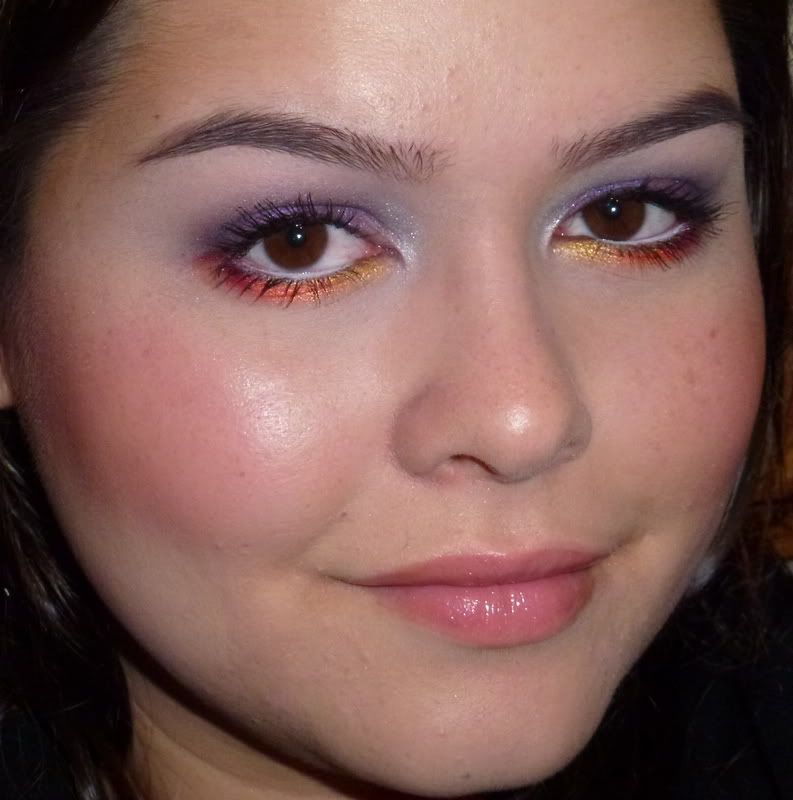 Sailor Saturn on the lid and crease, The Fett to deepen the crease, Powder Wig as an inner corner highlight, Sailor Mars on the outer lower lashline, Sailor Venus on the centre lower lashline, and Sailor Moon on the inner lower lashline.
I was sent some samples from Victorian Disco Cosmetics to review a little under 2 months ago. I was really taken by the company's understated geeky branding, and was excited by all the positive reviews I'd read. The shadows
swatched beautifully
, with only the slightest hint of sheerness. Other bloggers had raved about the pigmentation of the shadows, so I figured I had nothing to worry about.
.....Then I applied them.
The first time I used the shadows, I sat down and attempted a purple smokey eye (above). I assumed that these would be just as pigmented as all the other indie shadows I've tried, so I laid down a medium purple widely in the crease (Sailor Saturn). I like to lay down a light or medium shade in the crease first, and deepen it with a darker colour later on. It's ultimately easier for me to blend and reduces the chances of me ending up with a nasty muddy browbone (and lets face it, that happens
far
too often for my liking!)
Here I attempted Millennium Falcon in the crease with Revolutionary Ball on the lid, and to deepen the crease. Check out the strange line on the outer part of my lid....
Problem was, I couldn't even get that medium shade to show up. I basically had to push it into my crease with a flat shader brush to get any colour payoff. Then I tried layering the deeper shade over the top, and the colour just refused to get any deeper. It seemed like every time I touched my crease colour, the eyeshadow instantly disappeared and I had to start all over again.
Fastforward to the next day where I'm doing my lid shade for a blackened teal/blue smokey eye (above). I usually use a sticky coloured base on the lid to amp up the vibrancy of the eyeshadow I'm applying. I never have any issues with this, except if I apply too much of an extremely emollient product *cough* NYX Jumbo Pencils *cough* and then I
may
get some creasing. It's certainly nothing like I experienced with these products!
That's Sailor Mars on the lid over NYX Jumbo Pencil in Rust. Ialso used Sailor Mars on the outer lower lashline and mixed in the crease with Sailor Venus. Sailor Moon on the inner lower lashline.
I applied a layer of Essence I Love Rock! Gloss Eye Pencil, which is the skinnier version of NYX Jumbo Pencil in Black Bean. When I went to apply Revolutionary Ball over the lid, the creamy base didn't just amp up the vibrancy of the shadow, it gripped the shadow like
glue!
Seriously, it could've passed for six layers of Pixie Epoxy underneath that shadow. I've never had anything happen like that, with any of the hundreds of eyeshadows that I've tried.
Not gonna lie, the effect was pretty cool. Except for the edges.
Sweet Jesus
,
the edges. I'm usually pretty messy with my creamy bases; I don't bother blending them out as I don't get any weird lines between the amped-up powder shadow on the lid and the shadow in my crease. But with the glue-like effect I had going on on the lid that day, you can probably imagine how bad the transition between my lid and crease looked. I couldn't blend it out to save my life, so I just went out like that and was thankful that I was only running a few errands that day. You can see an example of said patchiness + chunkiness in another look above. :(
It wasn't all doom and gloom though, as some days the shadows applied perfectly, without any sheerness or chunking up. The above look with Sailor Moon on the lid and Sailors Mars and Venus in the crease was my favourite look that I created with the products - it was just one of those days where everything worked, and my makeup didn't try to fight my face for once. I also really liked the look below that I did with Millennium Falcon on the lid over a silver gel liner, with no chunking to be seen!
I found I did get creasing each time I used the shadows, but given the humidity and my insane sweatiness lately, that's happening with most eye looks I do, regardless of the products used.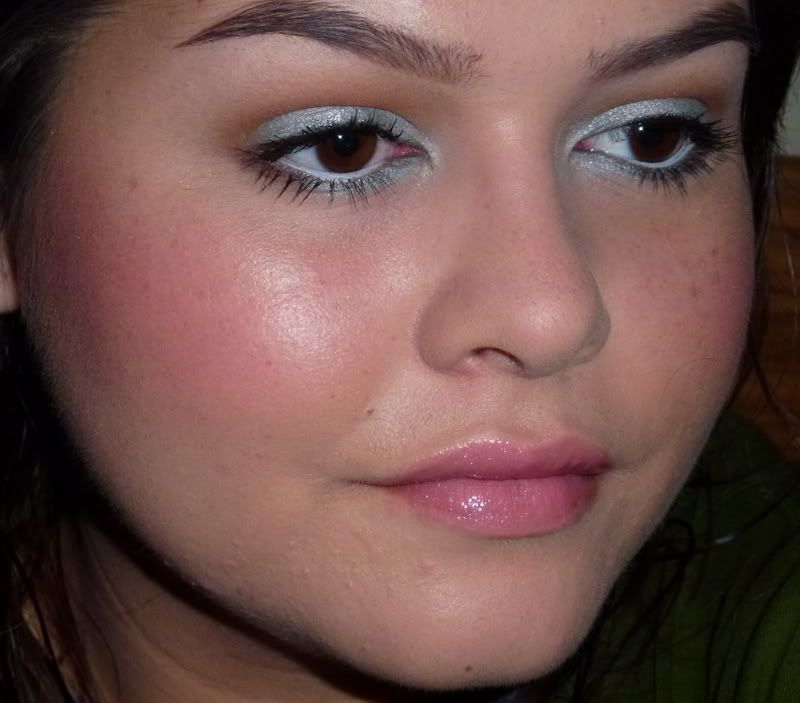 So that was my experience with Victorian Disco Cosmetics. I hope you all understand that I'm not out for blood and I'm not trying to trash the company. I'm not nitpicking or trying to find fault, I just had really bizarre reactions to these products, and I feel like you guys deserve to know what happened. Ashley has been great at taking my feedback on board, and that's the reason why this isn't a 'Don't shop at Victorian Disco Cosmetics' post. While Ashley's shadows fell short of my expectations, her customer service exceeded them. I would be willing to give the newly formulated shadows a second chance, and I would be willing to shop there as a paying customer.